O+A's Food For Thought Truck is coming to Los Angeles

March 10th to 13th
What If Good Design Could Travel?
Food for Thought Truck is a mobile design lab conceived and activated by the San Francisco interiors firm Studio O+A. We're traveling around California reaching out to communities with design needs as specific as mini-golf planning and as general as imagining what a new neighborhood might be.
An experiment in creative thinking, design improvisation and cultural partnership, Food for Thought Truck is dedicated to one of design's core purposes: turning need into an asset and a path to greater awareness.
LA Is a River City
We've already hit the streets in San Francisco, San Jose, Fremont and Bakersfield. Now we're heading to Los Angeles to help raise awareness of the LA River.
Partnering with River LA, a local non-profit dedicated to the revival of LA's much-maligned, but still-beloved river, Food for Thought Truck will unfold at locations around the city to talk about what the river might become and install O+A-designed signs that carry the message, "You are xx miles from the LA River."
On Wednesday, March 13 we'll be parked at the Lost Angeles Cleantech Incubator from 5 to 7 p.m. to celebrate the city's 51 miles of riparian potential and the Food for Thought Truck's season finale. Get your ticket and join us!
Hope to see you in Los Angeles from March 10th to 13th! Follow us on instagram @oa_fftt
Where can you meet the FFTT this week?
Verda Alexander and the Food For Thought Truck crew will stop by more than 15 locations: stores, cafes, schools, breweries, parks, where is your favorite spot? let's meet there and chat about the LA River, YOUR River!
1.Mash Studio, 2.Shimoda Design Group, 3. Vitra, 4. Palos Verdes High School, 5. Central High School Tri-C , 6. Zinc Cafe & Market, 7. Community, 8. Rancho del Mar High School, 9. Lynwood High School, 10 Spoke Bicycle Cafe, 11. Clara Street Park, 12. Canoga Park High School, 13. Angel City Brewery, 14. Netflix, 15. STEAM Legacy High School 17. Los Angeles Cleantech Incubator
"Design can be a source for inspiration and for change."
-Verda Alexander
Studio O+A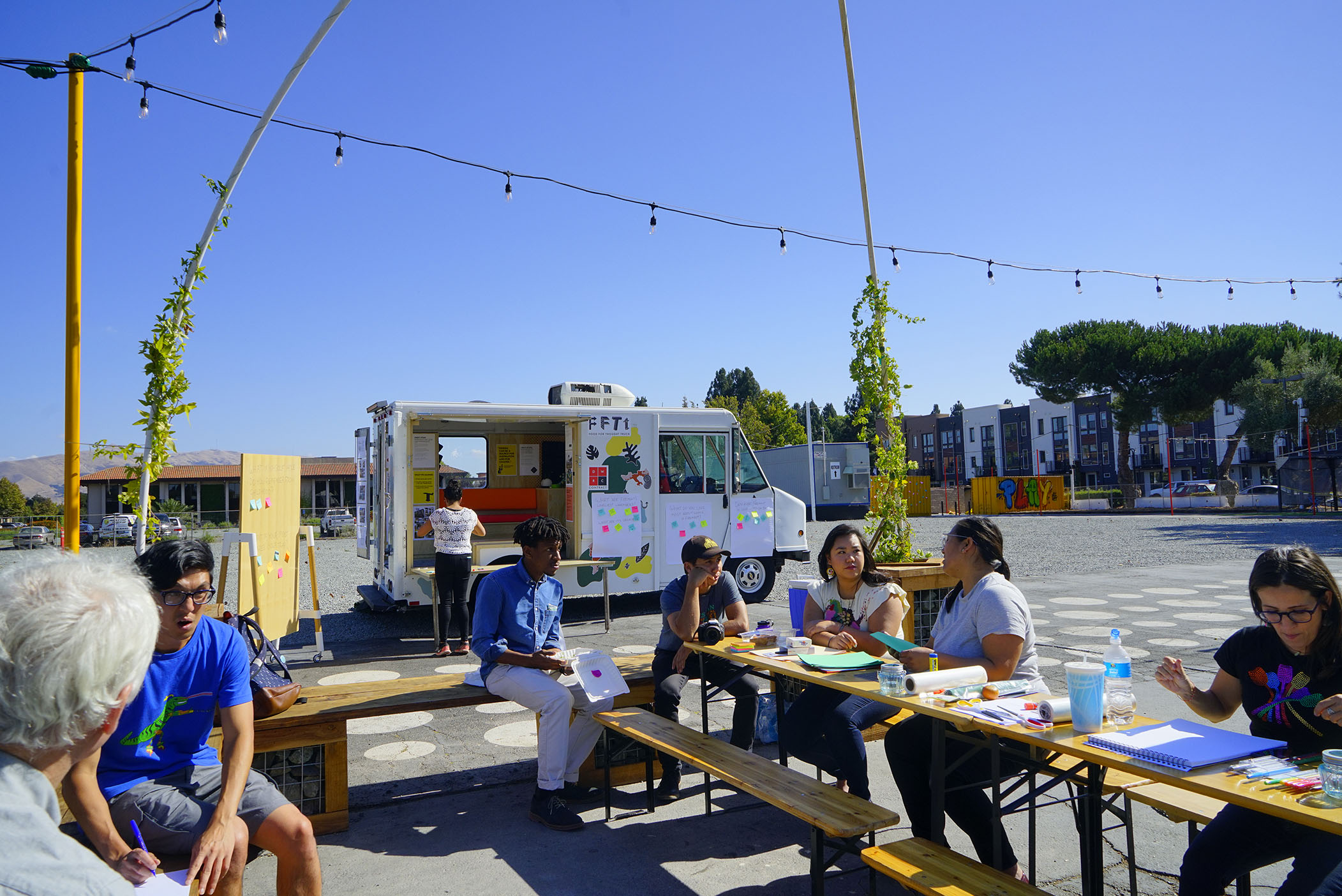 Our Story
In 2015 O+A co-founder Verda Alexander proposed putting an office in a truck for the London Design Festival. Getting a truck to England in time for the festival proved problematic. Two years later Verda's idea resurfaced as FOOD FOR THOUGHT TRUCK—not an office on wheels, but a studio for taking design on the road.
Food for Thought Truck's principle purpose is to spark creativity among Studio O+A's young designers and "give back" after 27 years of working with some of the most powerful companies in the world. Austerely functional in design, ever-playful in spirit, Food for Thought Truck travels to communities around California and engages with local stakeholders on site-specific projects. Part social outreach program, part design crusade, part radical art lab, the truck's itinerary is project-driven, exploring how design can be a force for good, particularly in localities where it hasn't been a factor.
Every trip Food for Thought Truck has made thus far has been a unique project. For PARK(ing) Day 2018 in San Francisco the truck turned into a mobile mini-park complete with a carpet of real grass. At San Jose Farmer's Market it worked with pop-up retailers on their storefronts and in Fremont with a local non-profit building a miniature golf course. In Bakersfield Food for Thought Truck coordinated and facilitated a week-long exercise envisioning a new neighborhood downtown. In Los Angeles we are joining River LA to help raise awareness of the Los Angeles River this week. Every trip has been a voyage of discovery, every project a new lesson in design.

When Food For Thought Truck stops at the Town Fair Plaza in Fremont, CA